About Us
Naima is a Indian takeaway in Lancing. Why don't you try our Chicken Vindaloo or Papadum?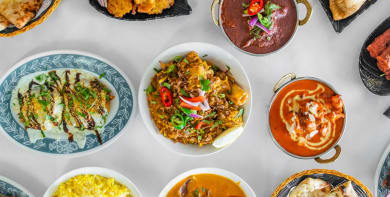 Reviews
676 reviews
Gina
"I always use these for my Indian takeaways. Good prices, quick delivery and fresh hot food! Thank you :)"
23/07/2021
Ryan
"The flavours of the curry from Naima are outstanding. Recommend to anyone!"
21/07/2021
Victoria
"Delicious"
20/07/2021
Martin
"As always- great selection, of dishes, great food & great service."
16/07/2021
Menu
Happy Night
Thursday only
Starter:
Onion bhaji OR meat samosa OR vegetables samosa
Main course:
Chicken korma OR chicken curry OR chicken madras OR chicken vindaloo OR vegetable korma OR vegetable curry OR vegetable madras OR vegetables vindaloo
Side dish:
Vegetable curry OR Bombay potato OR saag aloo
Includes:
Pilau rice
Naan bread
Papadum
Salad & mint sauce
£14.95
Tandoori Chicken Starter
On the bone
£4.40
Mixed Tikka Starter
Lamb, chicken, seekh kebab
£6.95
Paneer Tikka Starter Chicken
£5.00
Paneer Tikka Starter Lamb
£5.00
Nehari Tikka Starter Chicken
Diced chicken OR lamb tikka with onions & special naga pickle
Hot
£4.95
Nehari Tikka Starter Lamb
Diced chicken OR lamb tikka with onions & special naga pickle
Hot
£5.95
Chicken Momo
Cooked with spring onion, coriander, chilli, turmeric & green pepper rolled in a fried thin bread
£5.50
Banjara Tikka Starter
Chicken tikka with garlic, green chilli & coriander
Hot
£5.50
Chicken Tandoori Shashlik
£9.50
Chicken Garlic Tandoori Shashlik
£10.50
Lamb Garlic Tandoori Shashlik
£10.95
Tandoori Chicken Half
On the bone
£7.95
Whole Tandoori Chicken Full
On the bone
£11.95
Chicken Tikka Tandoori
Off the bone
£6.95
Lamb Tikka Tandoori
Off the bone
£7.50
Palak Chicken
Small pieces of soft chicken OR lamb tikka, slightly hot cooked with an exciting mixture of spinach, green chilli & garlic
£9.95
Palak Lamb
Small pieces of soft chicken OR lamb tikka, slightly hot cooked with an exciting mixture of spinach, green chilli & garlic
£10.50
Achari Chicken
Delicious dish cooked in a tangy tamarind & lime pickle with olive oil & thick medium sauce
£9.95
Achari Lamb
Delicious dish cooked in a tangy tamarind & lime pickle with olive oil & thick medium sauce
£10.50
Butter Chicken
Spices cooked in butter, mild creamy dish
Mild
£9.95
Butter Lamb
Spices cooked in butter, mild creamy dish
Mild
£10.50
Rezala Chicken
Cooked with onions & capsicum in a thick sauce medium to hot dish
£9.95
Rezala Lamb
Cooked with onions & capsicum in a thick sauce medium to hot dish
£10.50
Shahi Chicken
Chicken cooked with powder almonds, fresh cream, yoghurt & coconut powder garnished with mango
Mild
£9.95
Shahi Lamb
Chicken cooked with powder almonds, fresh cream, yoghurt & coconut powder garnished with mango
Mild
£10.50
Ginger Chicken
Nicely spiced chicken OR lamb cooked with fresh ginger, coriander, ginger & garlic
Medium
£9.95
Ginger Lamb
Nicely spiced chicken OR lamb cooked with fresh ginger, coriander, ginger & garlic
Medium
£10.50
Gosht Kata Masala
Spring lamb, braised in sliced onion, ginger, garlic & garam masala & served in a thick sauce
Medium
£9.95
Chicken Aloo Paneer
One of the best dishes, chicken tikka cooked in special bhuna sauce with thin fried potatoes & cheese - one not to miss
Medium
£9.95
Murgh Musallam
Highly spiced breast of chicken, marinated with minced meat & egg
Medium
£9.95
Mr Naga Chicken
A home style curry cooked in a spicy hot sauce using homemade naga chilli pickle sauce
£9.95
Mr Naga Lamb
A home style curry cooked in a spicy hot sauce using homemade naga chilli pickle sauce
£10.50
Cheese Special Chicken
Slices of chicken OR lamb in a spicy medium thick sauce with garlic & finished off with grated mozzarella cheese
Mild
£9.95
Cheese Special Lamb
Slices of chicken OR lamb in a spicy medium thick sauce with garlic & finished off with grated mozzarella cheese
Mild
£10.50
Rajasthan
Pieces of chicken tikka, potatoes & meatballs cooked in a rich bhuna sauce served with pilau rice garnished with fresh salad
£9.95
Hariali Chicken
Bhuna style chicken with spinach & a hint of mint
£9.95
Noodle Tikka
Stir fried noodles with spicy chicken tikka & scrambled eggs
£9.95
South Indian Murghi Balti
Tandoori chicken off the bone cooked with balti sauce & the chefs special recipe
£9.95
Sizzling Cocktail
Chicken tikka, lamb tikka & king prawn cooked in tandoori oven with fresh ginger, garlic, spring onions & carrot. Served with fresh green salad
£12.50
Chicken Tava
Marinated in spices & herbs, cooked with fresh capsicum, crushed garlic, ginger, tomato & methi, garnished with corriander & tikka paste sauce
£9.95
Tandoori Garlic Chilli Chicken Saag
Stripped tandoori chicken cooked with garlic & spinach
£9.95
Peri Peri Chicken
Small pieces of soft chicken OR lamb tikka, slightly hot with fresh garlic, green pepper & thick sauce
£9.95
Peri Peri Lamb
Small pieces of soft chicken OR lamb tikka, slightly hot with fresh garlic, green pepper & thick sauce
£10.50
Shipa Chicken
Small pieces of soft chicken OR lamb tikka, fresh garlic, green pepper, spring onion & thick sauce
£9.95
Shipa Lamb
Small pieces of soft chicken OR lamb tikka, fresh garlic, green pepper, spring onion & thick sauce
£10.50
Aloo Gobi Curry
Cauliflower & potato
£7.95
Saag Aloo Curry
Spinach & potatoes
£7.95
Chicken & Mushroom Dansak
£9.50
Chicken Tikka Balti Dansak
£9.95
Mixed Vegetabe Dansak
Cooked in lentil sauce, sweet & sour, & a little hot, served with pilau rice
£7.95
Mushroom Dansak
Cooked in lentil sauce, sweet & sour, & a little hot, served with pilau rice
£7.95
Mixed Vegetable Pathia
Highly spiced & sweet & sour, served with pilau rice
£7.95
Lamb, Prawn & Scampi Dopiaza
£8.95
Chicken Korai
Medium to hot
£8.50
Prawn Korai
Medium to hot
£8.95
Scampi Korai
Medium to hot
£8.95
King Prawn Korai
Medium to hot
£9.95
Chicken Tikka Korai
Medium to hot
£9.50
Lamb Tikka Korai
Medium to hot
£9.50
Mixed Vegetable Korai
Medium to hot
£7.95
Chicken Tikka Masala
Mild
£9.50
Chicken Tikka Pasanda
Mild
£9.50
Tandoori King Prawn Pasanda
Mild
£11.95
Tandoori King Prawn Tikka Masala
£11.95
Chicken Garlic Chilli Sambhar
£9.95
King Prawn Garlic Chilli Sambhar
£11.95
Chicken Gorchi
Medium mild
£9.95
Chicken Garlic Chilli Masala
£9.95
Lamb Garlic Chilli Masala
£10.50
Chicken Garlic Chilli Derai
£9.95
Chicken Garlic Chilli Raroil
£9.95
Chicken Shashlik Garlic Masala
Mild
£11.50
Mixed Vegetable Garlic Chilli Sambhar
£8.95
Saag Chana Garlic Chilli Sambhar
£8.95
Lamb, Prawn & Scampi Ceylon
£8.95
Lamb, Prawn & Scampi Kashmir
£8.25
Chana Chicken Bhuna
Cooked with chickpeas
£9.50
Mixed Vegetable Bhuna
A highly spiced fairly dry curry, served with extra vegetable curry
£8.50
Mushroom Bhuna
A highly spiced fairly dry curry, served with extra vegetable curry
£8.50
Chicken Jalfrezi
Madras hot
£8.50
Prawn Jalfrezi
Madras hot
£8.95
Scampi Jalfrezi
Madras hot
£8.95
King Prawn Jalfrezi
Madras hot
£9.95
Chicken Tikka Jalfrezi
Madras hot
£9.50
Lamb Tikka Jalfrezi
Madras hot
£9.95
Mixed Vegetable Jalfrezi
Madras hot
£7.95
Bhindi Tomato Jalfrezi
Madras hot
£7.95
Mixed Vegetable Madras
Hot
£7.95
Chicken Vindaloo
Very hot
£8.50
King Prawn Vindaloo
Very hot
£9.95
Chicken Tikka Vindaloo
Very hot
£9.50
Lamb Tikka Vindaloo
Very hot
£9.95
Mixed Vegetable Vindaloo
Very hot
£7.95
Chicken Tikka Balti Al-Mashriqi
Balti dish with cooked spinach on top
£11.50
Lamb Tikka Balti Al-Mashriqi
Balti dish with cooked spinach on top
£11.95
Chicken Tikka Balti Khadre
Cooked with minced meat
£11.50
Lamb Tikka Balti Khadre
Cooked with minced meat
£11.95
Chicken Balti Tikka Joshe
£9.95
Chicken Balti Tikka Jalfrezi
£9.95
Lamb Balti Tikka Jalfrezi
£10.50
Chicken Balti Tikka Korai
£9.95
Chicken Tikka Balti Pathia
£9.95
Mixed Vegetable Balti Rougon
£6.95
Chef's Special Biryani
Medium
£11.50
King Prawn Biryani
Medium
£10.95
Chicken Tikka Biryani
Medium
£9.95
Lamb Tikka Biryani
Medium
£10.50
Mixed Vegetable Biryani
Mixed, ganished & cooked with pilau rice, served with extra vegetable curry
Medium
£8.50
Mushroom Biryani
Mixed, ganished & cooked with pilau rice, served with extra vegetable curry
Medium
£8.50
Onion Bhaji
4 Pieces round ball
£3.50
Brinjal Bhaji (Aubergine)
£3.50
Machh Bhaji (Pilchard Fish)
£3.50
Tarka Daal (Spiced Lentils)
£3.50
Saag Chana Bhaji
Spinach & chickpeas
£3.50
Mushroom Omelette & Chips
£6.50
Set Meal For 1
Starters:
Chicken tikka & papadum
Main course:
Chicken tikka masala
Side dishes:
Vegetable curry, pilau rice & naan bread
£15.95
Set Meal For 2
Starters:
Chicken tikka, onion bhaji & 2 papadums
Main courses:
Chicken tikka masala & chicken bhuna
Side dishes:
Mushroom bhaji, Bombay potato, 2 pilau rice & naan bread
£29.95
Vegetarian Set Meal For 1
Starters:
Vegetable samosa & papadum
Main course:
Any vegetable main dish
Side dishes:
Bombay potato, pilau rice & naan bread
£14.50
Contact Us
Find Us
32 Crabtree Lane, Lancing, BN159PQ
We deliver to
BN11, BN12, BN13, BN14, BN15, BN41, BN42, BN43, BN44