About Us
Naima is a Indian takeaway in Lancing. Why don't you try our Chicken Vindaloo or Papadum?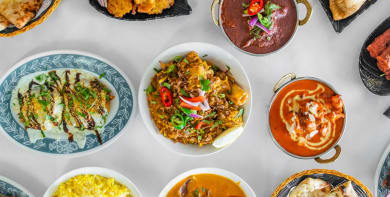 Reviews
537 reviews
Dave
"Always found food great, was really good today!!"
19/09/2020
Jane
"VERY GOOD FOOD."
15/09/2020
Adrienne
"Lovely spicy food and plenty of it"
15/09/2020
cheryl
"Gorgeous food , first time we've ordered, definitely ordering again ."
12/09/2020
Menu
Lamb, Prawn & Scampi Dopiaza
£8.95
Chicken Korai
Medium to hot
£8.50
Prawn Korai
Medium to hot
£8.95
Scampi Korai
Medium to hot
£8.95
King Prawn Korai
Medium to hot
£9.95
Chicken Tikka Korai
Medium to hot
£9.50
Lamb Tikka Korai
Medium to hot
£9.50
Mixed Vegetable Korai
Medium to hot
£7.95
Chicken Tandoori Shashlik
£9.50
Chicken Garlic Tandoori Shashlik
£10.50
Lamb Garlic Tandoori Shashlik
£10.95
Tandoori Chicken Half
On the bone
£7.95
Whole Tandoori Chicken Full
On the bone
£11.95
Chicken Tikka Tandoori
Off the bone
£6.95
Lamb Tikka Tandoori
Off the bone
£7.50
Vegetarian Set Meal For 1
Starters:
Vegetable samosa & papadum
Main course:
Any vegetable main dish
Side dishes:
Bombay potato, pilau rice & naan bread
£14.50
Set Meal For 1
Starters:
Chicken tikka & papadum
Main course:
Chicken tikka masala
Side dishes:
Vegetable curry, pilau rice & naan bread
£15.95
Set Meal For 2
Starters:
Chicken tikka, onion bhaji & 2 papadums
Main courses:
Chicken tikka masala & chicken bhuna
Side dishes:
Mushroom bhaji, Bombay potato, 2 pilau rice & naan bread
£29.95
Chef's Special Biryani
Medium
£11.50
King Prawn Biryani
Medium
£10.95
Chicken Tikka Biryani
Medium
£9.95
Lamb Tikka Biryani
Medium
£10.50
Mixed Vegetable Biryani
Mixed, ganished & cooked with pilau rice, served with extra vegetable curry
Medium
£8.50
Mushroom Biryani
Mixed, ganished & cooked with pilau rice, served with extra vegetable curry
Medium
£8.50
Mushroom Omelette & Chips
£6.50
Chicken Jalfrezi
Madras hot
£8.50
Prawn Jalfrezi
Madras hot
£8.95
Scampi Jalfrezi
Madras hot
£8.95
King Prawn Jalfrezi
Madras hot
£9.95
Chicken Tikka Jalfrezi
Madras hot
£9.50
Lamb Tikka Jalfrezi
Madras hot
£9.95
Mixed Vegetable Jalfrezi
Madras hot
£7.95
Bhindi Tomato Jalfrezi
Madras hot
£7.95
Chicken & Mushroom Dansak
£9.50
Chicken Tikka Balti Dansak
£9.95
Mixed Vegetabe Dansak
Cooked in lentil sauce, sweet & sour, & a little hot, served with pilau rice
£7.95
Mushroom Dansak
Cooked in lentil sauce, sweet & sour, & a little hot, served with pilau rice
£7.95
Chicken Tikka Masala
Mild
£9.50
Chicken Tikka Pasanda
Mild
£9.50
Tandoori King Prawn Pasanda
Mild
£11.95
Tandoori King Prawn Tikka Masala
£11.95
Chicken Garlic Chilli Sambhar
£9.95
King Prawn Garlic Chilli Sambhar
£11.95
Chicken Gorchi
Medium mild
£9.95
Chicken Garlic Chilli Masala
£9.95
Lamb Garlic Chilli Masala
£10.50
Chicken Garlic Chilli Derai
£9.95
Chicken Garlic Chilli Raroil
£9.95
Chicken Shashlik Garlic Masala
Mild
£11.50
Mixed Vegetable Garlic Chilli Sambhar
£8.95
Saag Chana Garlic Chilli Sambhar
£8.95
Mixed Vegetable Madras
Hot
£7.95
Chicken Vindaloo
Very hot
£8.50
King Prawn Vindaloo
Very hot
£9.95
Chicken Tikka Vindaloo
Very hot
£9.50
Lamb Tikka Vindaloo
Very hot
£9.95
Mixed Vegetable Vindaloo
Very hot
£7.95
Chana Chicken Bhuna
Cooked with chickpeas
£9.50
Mixed Vegetable Bhuna
A highly spiced fairly dry curry, served with extra vegetable curry
£8.50
Mushroom Bhuna
A highly spiced fairly dry curry, served with extra vegetable curry
£8.50
Chicken Tikka Balti Al-Mashriqi
Balti dish with cooked spinach on top
£11.50
Lamb Tikka Balti Al-Mashriqi
Balti dish with cooked spinach on top
£11.95
Chicken Tikka Balti Khadre
Cooked with minced meat
£11.50
Lamb Tikka Balti Khadre
Cooked with minced meat
£11.95
Chicken Balti Tikka Joshe
£9.95
Chicken Balti Tikka Jalfrezi
£9.95
Lamb Balti Tikka Jalfrezi
£10.50
Chicken Balti Tikka Korai
£9.95
Chicken Tikka Balti Pathia
£9.95
Mixed Vegetable Balti Rougon
£6.95
Lamb, Prawn & Scampi Kashmir
£8.25
Palak Chicken
Small pieces of soft chicken OR lamb tikka, slightly hot cooked with an exciting mixture of spinach, green chilli & garlic
£9.95
Palak Lamb
Small pieces of soft chicken OR lamb tikka, slightly hot cooked with an exciting mixture of spinach, green chilli & garlic
£10.50
Achari Chicken
Delicious dish cooked in a tangy tamarind & lime pickle with olive oil & thick medium sauce
£9.95
Achari Lamb
Delicious dish cooked in a tangy tamarind & lime pickle with olive oil & thick medium sauce
£10.50
Butter Chicken
Spices cooked in butter, mild creamy dish
Mild
£9.95
Butter Lamb
Spices cooked in butter, mild creamy dish
Mild
£10.50
Rezala Chicken
Cooked with onions & capsicum in a thick sauce medium to hot dish
£9.95
Rezala Lamb
Cooked with onions & capsicum in a thick sauce medium to hot dish
£10.50
Shahi Chicken
Chicken cooked with powder almonds, fresh cream, yoghurt & coconut powder garnished with mango
Mild
£9.95
Shahi Lamb
Chicken cooked with powder almonds, fresh cream, yoghurt & coconut powder garnished with mango
Mild
£10.50
Ginger Chicken
Nicely spiced chicken OR lamb cooked with fresh ginger, coriander, ginger & garlic
Medium
£9.95
Ginger Lamb
Nicely spiced chicken OR lamb cooked with fresh ginger, coriander, ginger & garlic
Medium
£10.50
Gosht Kata Masala
Spring lamb, braised in sliced onion, ginger, garlic & garam masala & served in a thick sauce
Medium
£9.95
Chicken Aloo Paneer
One of the best dishes, chicken tikka cooked in special bhuna sauce with thin fried potatoes & cheese - one not to miss
Medium
£9.95
Murgh Musallam
Highly spiced breast of chicken, marinated with minced meat & egg
Medium
£9.95
Mr Naga Chicken
A home style curry cooked in a spicy hot sauce using homemade naga chilli pickle sauce
£9.95
Mr Naga Lamb
A home style curry cooked in a spicy hot sauce using homemade naga chilli pickle sauce
£10.50
Cheese Special Chicken
Slices of chicken OR lamb in a spicy medium thick sauce with garlic & finished off with grated mozzarella cheese
Mild
£9.95
Cheese Special Lamb
Slices of chicken OR lamb in a spicy medium thick sauce with garlic & finished off with grated mozzarella cheese
Mild
£10.50
Rajasthan
Pieces of chicken tikka, potatoes & meatballs cooked in a rich bhuna sauce served with pilau rice garnished with fresh salad
£9.95
Hariali Chicken
Bhuna style chicken with spinach & a hint of mint
£9.95
Noodle Tikka
Stir fried noodles with spicy chicken tikka & scrambled eggs
£9.95
South Indian Murghi Balti
Tandoori chicken off the bone cooked with balti sauce & the chefs special recipe
£9.95
Sizzling Cocktail
Chicken tikka, lamb tikka & king prawn cooked in tandoori oven with fresh ginger, garlic, spring onions & carrot. Served with fresh green salad
£12.50
Chicken Tava
Marinated in spices & herbs, cooked with fresh capsicum, crushed garlic, ginger, tomato & methi, garnished with corriander & tikka paste sauce
£9.95
Tandoori Garlic Chilli Chicken Saag
Stripped tandoori chicken cooked with garlic & spinach
£9.95
Peri Peri Chicken
Small pieces of soft chicken OR lamb tikka, slightly hot with fresh garlic, green pepper & thick sauce
£9.95
Peri Peri Lamb
Small pieces of soft chicken OR lamb tikka, slightly hot with fresh garlic, green pepper & thick sauce
£10.50
Shipa Chicken
Small pieces of soft chicken OR lamb tikka, fresh garlic, green pepper, spring onion & thick sauce
£9.95
Shipa Lamb
Small pieces of soft chicken OR lamb tikka, fresh garlic, green pepper, spring onion & thick sauce
£10.50
Onion Bhaji
4 Pieces round ball
£3.50
Brinjal Bhaji (Aubergine)
£3.50
Machh Bhaji (Pilchard Fish)
£3.50
Tarka Daal (Spiced Lentils)
£3.50
Saag Chana Bhaji
Spinach & chickpeas
£3.50
Lamb, Prawn & Scampi Ceylon
£8.95
Tandoori Chicken Starter
On the bone
£4.40
Mixed Tikka Starter
Lamb, chicken, seekh kebab
£6.95
Paneer Tikka Starter Chicken
£5.00
Paneer Tikka Starter Lamb
£5.00
Nehari Tikka Starter Chicken
Diced chicken OR lamb tikka with onions & special naga pickle
Hot
£4.95
Nehari Tikka Starter Lamb
Diced chicken OR lamb tikka with onions & special naga pickle
Hot
£5.95
Chicken Momo
Cooked with spring onion, coriander, chilli, turmeric & green pepper rolled in a fried thin bread
£5.50
Banjara Tikka Starter
Chicken tikka with garlic, green chilli & coriander
Hot
£5.50
Mixed Vegetable Pathia
Highly spiced & sweet & sour, served with pilau rice
£7.95
Happy Night
Thursday only
Starter:
Onion bhaji OR meat samosa OR vegetables samosa
Main course:
Chicken korma OR chicken curry OR chicken madras OR chicken vindaloo OR vegetable korma OR vegetable curry OR vegetable madras OR vegetables vindaloo
Side dish:
Vegetable curry OR Bombay potato OR saag aloo
Includes:
Pilau rice
Naan bread
Papadum
Salad & mint sauce
£14.95
Aloo Gobi Curry
Cauliflower & potato
£7.95
Saag Aloo Curry
Spinach & potatoes
£7.95
Vegetable Thali Curry
Fresh cauliflower, bhindi, mushroom & saag bhaji
£11.95
Contact Us
Find Us
32 Crabtree Lane, Lancing, BN159PQ
We deliver to
BN11, BN12, BN13, BN14, BN15, BN41, BN42, BN43, BN44